Genealogy - A listing of ancestors
Growing up Okie - My mom's history in Oklahoma
Fireworks Page - Pictures of our hobby
Comments - Send us your thoughts
Family History - A brief history of the Bowlans.
Bowlan Family Association - Do we want to form one?
Ferry Boats - Information about the Ferries of Puget Sound
Cherokee Links - Links to the history and culture
Professional Pages - Resume and computer links
Genealogy of the Bowlan Family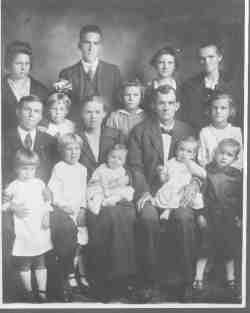 The Bowlans came from England and Ireland and settled in Virginia and Kentucky in the early history of the country and have since spread around most of the U.S. There are branches in Arkansas, Alabama, Ohio, California and in the Northwest.
I will be putting the genealogy of the Bowlan Family up on this Web site. Feel free to add, correct and in general, help me build this site.
This is the genealogy, so far, that we think is correct. If you are a Bowlan and can't figure out the links, drop us a line and we will try and help. I have always heard that if they spell it BOWLAN they are a relative. As long as it is not spelled BOWLAND. I have the history of the family on another page.
There has been a lot of speculation on our being related to Pocahontas. I can't find verification of that. It looks like that is a branch of a family that spelled their name close to the way ours is spelled (Bolling). If anyone can tie the two lines, I would appreciate that.
I have scanned the listing of the Zion Baptist Cemetery that is north of Winfield, Alabama. It is in Southern Marion County close to the border with Fayette County, Alabama. I will be putting up more source documents as I find the time. Check Back.
I am also anxious to either prove or disprove our Cherokee ancestry. I have heard that all of my life and if anyone can help me I would be forever grateful. It looks like that is from the Sizemore side of the family. I have the application numbers from the Miller rolls and I will post that information once I have it.
Check back, We will be putting the rest of the genealogy stuff up on this site in the near future. We trace it way back. If you have questions or comments or anything to add, please let me know. I can be reached at Bill@Bowlan.com. Thanks.
Updated by bill bowlan on 09/10/2001